Introducing AliveInsights™
Monitor Your Heart, Anytime, Anywhere.
Peace of Mind Through Your Smartphone
For the first time, you can record your own ECG using the FDA cleared AliveCor System on your smartphone and use AliveInsights™* analysis services to have a cardiac technician or cardiologist review your ECG recording in as little as 30 minutes.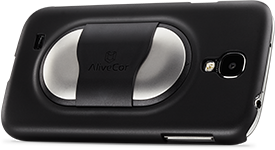 The AliveCor System
Prescribed Patient
AliveCor Heart Monitor
AliveECG Application
AliveInsight Expert Analysis
AliveCor User Community
Cardiologists & Physicians
AliveCor.com Patient Management
The AliveCor System includes a free AliveCor account that connects you to your doctor, enabling convenient and unprecedented control of your heart health.
Until now, monitoring your heart health may have meant wearing an uncomfortable monitor or coping with infrequent visits to the doctor. The AliveCor System gives you the freedom to easily track your cardiac rhythms whenever you want and receive a detailed report at anytime. This enables you to engage with your doctor between appointments.
Record Your ECG Anytime, Anywhere
AliveCor's Heart Monitor is an FDA cleared, single-channel ECG recorder that is portable and easy to use. The Heart Monitor leverages your smartphone to record, display, store and transfer your ECG through the AliveECG application.
AliveCor's Heart Monitor is intended for use by licensed U.S. medical professionals and prescribed patients.
Connect with Your Doctor
The AliveCor System makes communicating with your doctor easy. Your doctors can request to have access to all your recordings by logging into their free AliveCor account through our secure, HIPAA compliant website at their convenience.
Learn more about granting ECG access
Clinical Validation
AliveCor's Heart Monitor has been used in several clinical trials along with rigorous testing through numerous medical professionals and in many ongoing studies at USC's Center for Body Computing, Scripps Health, Oklahoma Health Sciences center, UCSF's Health eHeart study and many other institutions. Presented and published clinical trial papers and abstracts demonstrate Alivecor's usability, clinical accuracy, and screening capabilities.
See a few examples below:
See also J. Cardiovasc. Electrophysiol. 24(4), Saxon, L.A.
CONCLUSION
Anytime ECG monitoring, as an adjunct to a smart phone, is intuitive and allows users to learn about and characterize their heart rates and rhythms. It provides global identification of arrhythmias at any time. The implications of this technology for improving public awareness of health metrics and for the early diagnosis of arrhythmias in large patient populations are enormous.
See also Int. J. Cardiol. 165(1), Lau, J.K.
CONCLUSION
A high quality single-lead ECG can be rapidly and simply recorded using an iPhone with the AliveCor application, to accurately diagnose AF, making this an ideal enabling technology for community screening programs to detect silent AF. Screening programs utilizing this device could have a substantial impact on reducing ischemic stroke related to previously undiagnosed AF.
CONCLUSION
The iPhone-based event recorder is an accurate clinical tool for ECG assessment and could prove to be a new tool for allowing immediate recording and analysis of an ECG rhythm. Additional analysis of QT interval and QRS duration is needed.
See also Heart Lung Circ. 22(S223), Lowres, N.
CONCLUSION
ECG screening identified a sizable cohort with previously unknown AF, at sufficient risk to require OAC for stroke prevention. High overall stroke risk, relatively low OAC prescriptions, and poor knowledge of diagnosed AF sufferers highlight the need for community-based screening and education. This study demonstrates a feasible strategy using iECG in pharmacies to address these gaps.
See also Heart Lung Circ. 22(S205), Lau, J.
CONCLUSION
The iPhone iECG can be readily applied to a screening setting and with the automated algorithm has sufficient accuracy to become a valuable technology for community-based or primary care screening for undetected AF to prevent stroke.
What Our Customers Are Saying
The AliveCor technology has extended my medical practice into the living rooms of my patients. The technology leapfrogs so many barriers of communication that have historically existed between me and my patients. Simple, fast and effective, cardiac rhythm diagnostics in the hands of my patients. This is the new direction of advanced care.
- Dr. Randy Baggesan
I like the convenience and ease of use to obtain a mono lead EKG recording. This has helped my patients who, other than being surprised by the new technology, benefit so heart arrhythmia or an infarction may be ruled out.
- Ayaz M. Samadani M.D., FAAFP
I have atrial fibrillation that comes and goes. Sometimes it's more severe than others. AliveCor allows me to take an ECG and immediately see what's going on. This is very comforting. It's also nice to have the record over time of the afib episodes to see the progression of my condition.
- Hank, patient
It's so convenient that the AliveCor device fits on my iPhone. I always have my phone with me, and I always have my AliveCor device with me, ready to record at any time. It gives me peace of mind.
- anonymous
It is very comforting to be able to see my ECG whenever I want.
- anonymous
As a patient with asymptomatic Atrial Fibrillation, the AliveCor Heart Monitor has been invaluable. The ability to take an ECG reading at any time provides me with a sense of reassurance regarding my heart condition and makes me an active participant in my monitoring my health
- Jane, patient age 60
I have already started to use the device to record ECGs. As a scientific professional I am fascinated by this technology; and as a sufferer from AF I will be looking forward to being able to capture the runs of palpitations / arrhythmias that I get very occasionally but have never been able to coincide with my wearing of a Holter monitor.
- George, patient age 55